Trust your taste buds & 5 favorite meals from my NEW recipe book!
Did you know your tongue's taste buds are connected to your organs?
I recall trying to repress craving sweets because it was "bad" for us. When we crave sweets, it is our nervous system needing support to build tissue and calm nerves.
So instead of denying our body, we nourish it. Try to add in fruit, squash, dark chocolate, honey, or baked apples with cinnamon.
I recall two of my peers being interviewed and telling people to just get over craving sweet, push through, white knuckle it.
Even if you are trying to reduce processed sugar, carbohydrates, and fast foods, I don't recommend the technique to go cold turkey. The middle path and gentler way are way kinder to your organs and emotions. Take a look at this diagram to see which one of your taste buds may need more nourishment.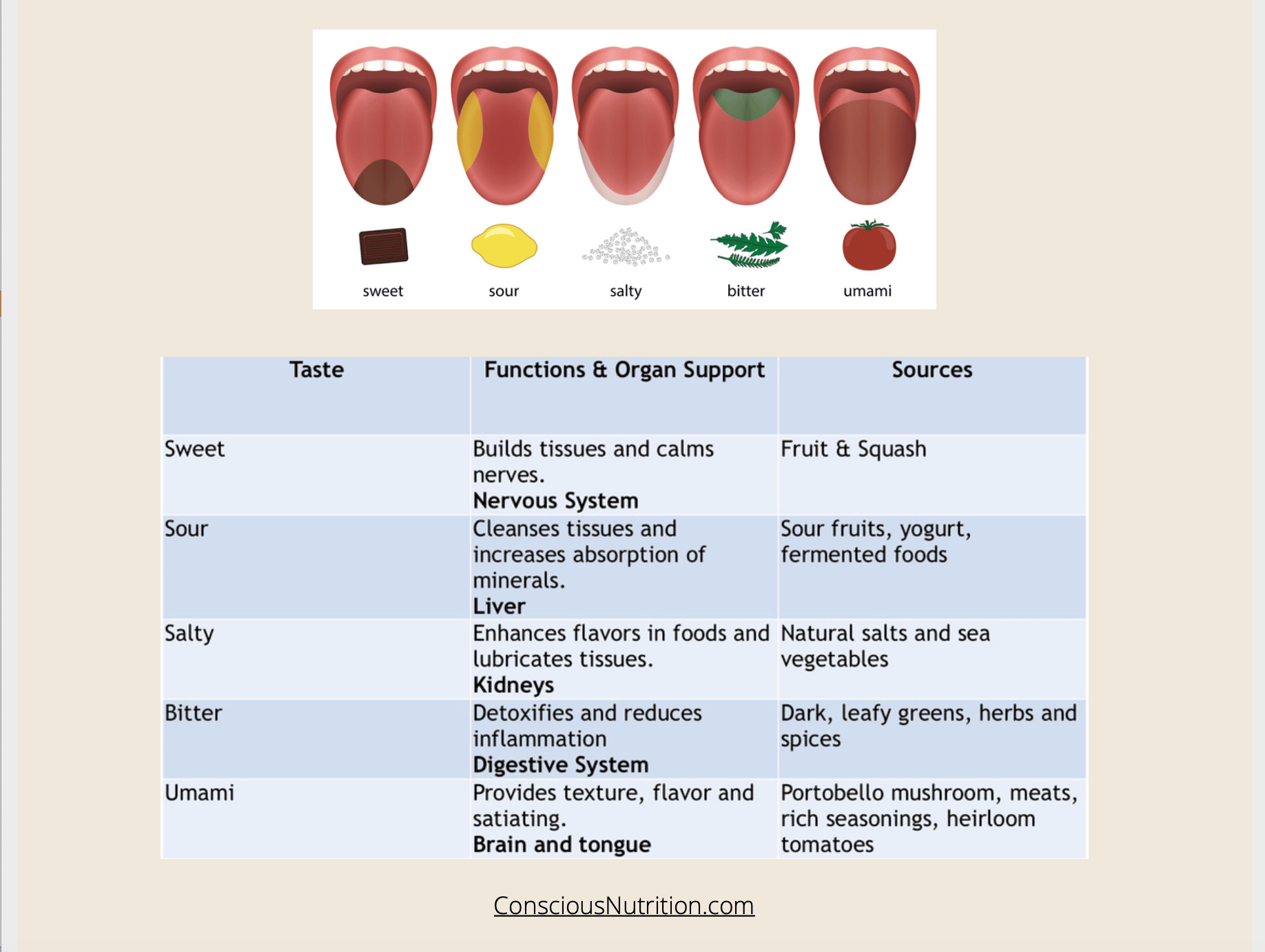 Some mornings you may wake up and crave bitterness. Thus, the coffee craving. The pungent/bitter/aromatic compound in bitter foods stimulates or relaxes digestion such as citrus, cinnamon, ginger, coffee, dandelion or other bitter greens.
A couple of tips to support your adrenals and digestion is:
Add in cinnamon and ginger into your coffee grounds and then brew. This totally helps you have less of a caffeine spike and they offer blood sugar balancing so you don't crash.

And my million dollar tip is to try adding in citrus or bitter greens

BEFORE your coffee or tea.

I have seen many people's energy levels, skin tone, digestion, and hydration shift dramatically. I have been rotating between liquid chlorophyll, aloe vera juice, or ginger and lime in warm water.
While you are giving new things a try! My recipe book is available in print.
Here are a few of my FAVorite recipes from Meals & Feels to get your taste buds salivating:
Green Curry De-light

: p. 78

Vegan Mac-n-Cheese

: p. 85

Artichoke Soup

: p. 122

Gilicious Apple Bake

(named after one of my retreaters): p. 137

Rice Pudding

: p. 176
Each recipe is broken down by Temperature Type, Flavor Type, & Meal Type. You will focus on tuning into your body and then choosing a recipe that nourishes you.
And you can purchase your copy of the Feels & Meals Recipe Book on Amazon.
If you are not an Amazon lover, you can purchase from my website. (US only, a bit more expensive since I have 2 shipping fees).
Thank you for your continuous support.