Let's focus on the micros instead of just the macros
I didn't feel like cooking at the beginning of last week, so I bought some homemade soups from a friend.
I use a few quality ingredients when I cook, along with a sauce full of flavor and spices. Her soups had a wider variety of ingredients that together provided more flavor! One soup had 7 different vegetables, and I hadn't eaten 3 of them for over a year.
There are over 20,000 species of edible plants in the world yet fewer than 20 species now provide 90% of our food. We are missing this variety which in turn means we are missing nutrients our body needs to detox and function.
Diet trends and some of the medical community, including my education, have focused more on macronutrients versus what micronutrients and minerals our bodies need to function optimally.
Mineral deficiency is real. According to the Copenhagen Consensus 2008 Challenge paper, undernutrition is the biggest challenge to health, economic growth, education and mortality.
According to the World Health Organization, 17% of the global population is zinc deficient, zinc is a co-factor of many chemical reactions in the body. And more than half of the American population is not getting enough magnesium. Magnesium is one of the most crucial and important minerals for the detoxification process along with overall health and well-being, especially cardiovascular health.
The main mineral deficiencies are zinc, iron, iodine, selenium, calcium, magnesium.
Does taking a multivitamin with minerals fix this all? I personally don't take one or consistently suggest a broad-spectrum multivitamin supplement to my clients and friends. Most of the research I resonate with doesn't suggest all of these supplements together at the same time. Also, the quality of minerals used isn't always easy to absorb. However, that doesn't mean you shouldn't take one. If you are and trust the source, awesome.
With my work, we focus more on:
Digestive health

Emotional health

Stress levels

Bring the joy back to meals

Nourish the organs and taste buds
Now, let's take mineral, magnesium and strategize how to bring more into our diets.
First. Take the 5-deep breaths and observe if you notice a TASTE that is singing to you.
This is the organ that connects to this taste giving you a heads up it is needing support.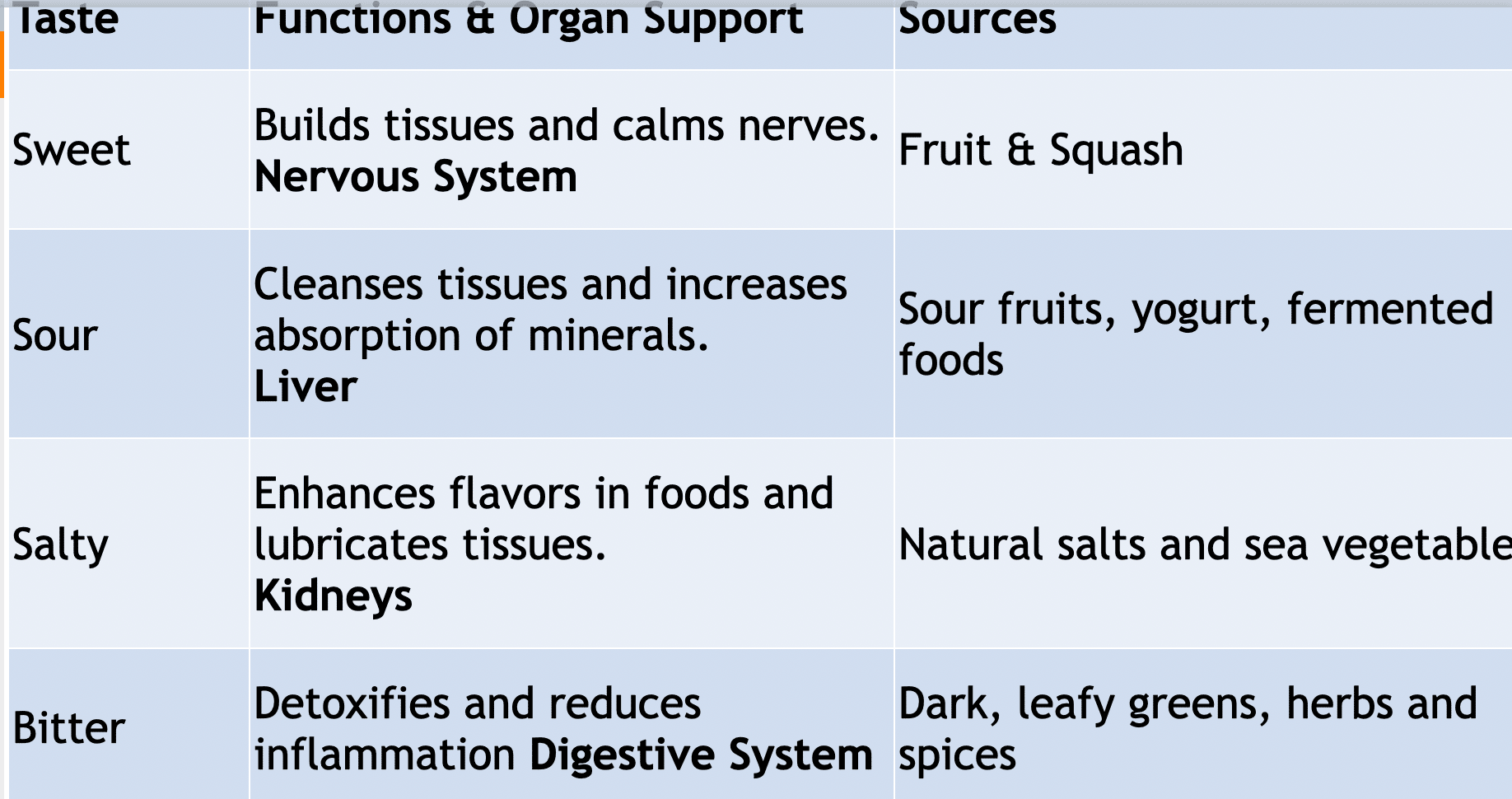 For example:
You are craving Sweet and your nervous system needs support.
Look at the list below and which item, calls out to you:
DARK CHOCOLATE!
Besides just having dark chocolate, you could also make a smoothie with a banana, (lightly steamed, then freeze) spinach, and avocado.
204 mg! WHAT!
Your body gave you a message and you truly delivered.
The recommended amounts for adults are:
Women: 310–320 mg
Men: 400–420 mg
Pumpkin seed – kernels: Serving Size 1 oz, 168 mg

Almonds, dry roasted: Serving Size 1 oz, 80 mg

Spinach, boiled: Serving Size ½ cup, 78 mg

Cashews, dry roasted: Serving Size 1 oz, 74 mg

Pumpkin seeds in the shell: Serving Size 1 oz, 74 mg

Black beans, cooked: Serving Size ½ cup, 60 mg

Edamame, shelled, cooked: Serving Size ½ cup, 50 mg

Dark chocolate -60-69% cocoa: Serving Size 1 oz, 50 mg

Peanut butter, smooth: Serving Size 2 tablespoons, 49 mg

Avocado, cubed: Serving Size 1 cup, 44 mg

Potato, baked with skin: Serving Size 3.5 oz, 43 mg

Rice, brown, cooked: Serving Size ½ cup, 42 mg

Kidney beans, canned: Serving Size ½ cup, 35 mg

Banana: Serving Size 1 medium, 32 mg

Cocoa powder– unsweetened: Serving Size 1 tablespoon, 27 mg

Salmon, Atlantic, farmed: Serving Size 3 oz, 26 mg

Halibut, cooked: Serving Size 3 oz, 24 mg

Raisins: Serving Size ½ cup, 23 mg

Beef, ground, 90% lean: Serving Size 3 oz, 20 mg

Broccoli, chopped & cooked: Serving Size ½ cup, 12 mg

Rice, white, cooked: Serving Size ½ cup, 10 mg

Apple: Serving Size 1 medium, 9 mg

Carrot, raw: Serving Size 1 medium, 7 mg
If you are constantly craving chocolate when stressed, and this smoothie isn't accessible, one of my favorite supplements is Calm by Natural Vitality.
Let's try one more. You are craving SALTY. What foods high in magnesium will help the kidneys?
​I instantly thought of this dish I made with black beans, edamame, red peppers (high in vitamin C), green onions, tomatoes and a bit of gluten-free soy sauce.
Depending on how hungry you were, that adds up to 150 mg of magnesium.
If you are ready to focus a bit more of your energy to enhance your micronutrients, JOIN me for the spring Free 5-day course!
We tune in each day on how we can up-level our nutrition, one bite at a time. The value is $97 and it is yours for FREE! ​
Coupon Code: EASEIN
P.S. I was in major need of this nutritious and simple Kitchari recipe. Thanks to Olana organic farm, Ayurveda Bliss & the Kitchari Queen for the simple package!
P.S. Get a jump and join my complimentary Facebook Group, click below!
​
with abundant nourishment,
Heather Fleming, C.C.N. ​
​​
​