You are a FEELING being who thinks, not a thinking being who feels~Jill Bolte, author of "Whole-Brain Living".
Read that again.
I don't want you to follow a diet and NOT feel. I have listened to so many experts tell you how not to emotionally eat. Well, how is that working for us? Not so good. Especially when stress levels and disease issues are on the rise. We have to learn how to work with our sensitive, complicated emotions. Food provides us comfort, energy, relief, connection, and healing. 
My superpower is being sensitive. I use to judge my sensitivity as being weak and would try to cover it up by being tough. My feelings would get hurt easily and it would completely tire me out when I spend time with people who are strong-minded.
I am strong, but do not want to be tough and rigid.
I am sensitive but don't want to be lost in my emotional distress.
When I began nutrition, I only wanted to focus on food. I didn't want to or know how to help people with their psyche and emotions. I was scared of my own emotions and scared about how to help others.
Now, I am not scared.
I created a nutrition methodology to HELP you, do you! We have to learn how to be responsible, and accountable for our amazing wholeness. We are all alone and all in this together.
I don't know where the world is heading, and I KNOW my world is shifting. So, to prepare, I organized ALL the Conscious Nutrition concepts into one course.
MEALS & FEELS-Reduce your Guilt & Bloat Program! We don't just need a well-balanced life or diet, we need a well-balanced APPROACH. And this is it!
I see so many people and myself included, trying to 'tackle', force, be frustrated at the results all of the time versus how we can just take a ten-degree turn and try it differently.
Most diets and extreme programs are not guiding you on how to APPROACH your emotions, feelings, and thoughts with food.
Now, we are incorporating these feels with meals into your everyday life.
You will receive:
BITE-size videos

of me sharing nutritional science and consciousness concepts in over 40 lessons. You digest and do it at your OWN pace. And you are never 'done' with your nutrition program because you will constantly continue to learn about your body.

40-Days of Meal Ideas

(WHAT!!) I have been wanting to create these for you for years;) Phew, I did it. 

Each Meal Idea is correlated to a recipe in the NEW Meals & Feels recipe book.

The Meals & Feels Recipe e-book.

Over 111 recipes that match Flavor, Temperature, and Meal Type.

Practice a mantra

that helps you release guilt and obsessive thinking around your relationship with food.

Discover the # of Meal Types

you may need to help with your emotions, digestion, and body.

A NEW JOURNAL:

You can either track your 5-deep breaths, water, Meal Types, Guilty feelings, Bloating sensations, and Energy levels on the computer or print it out and use a good ole pen and paper. I created 42 days, just to shake things up from the traditional time frames. Take a peek below!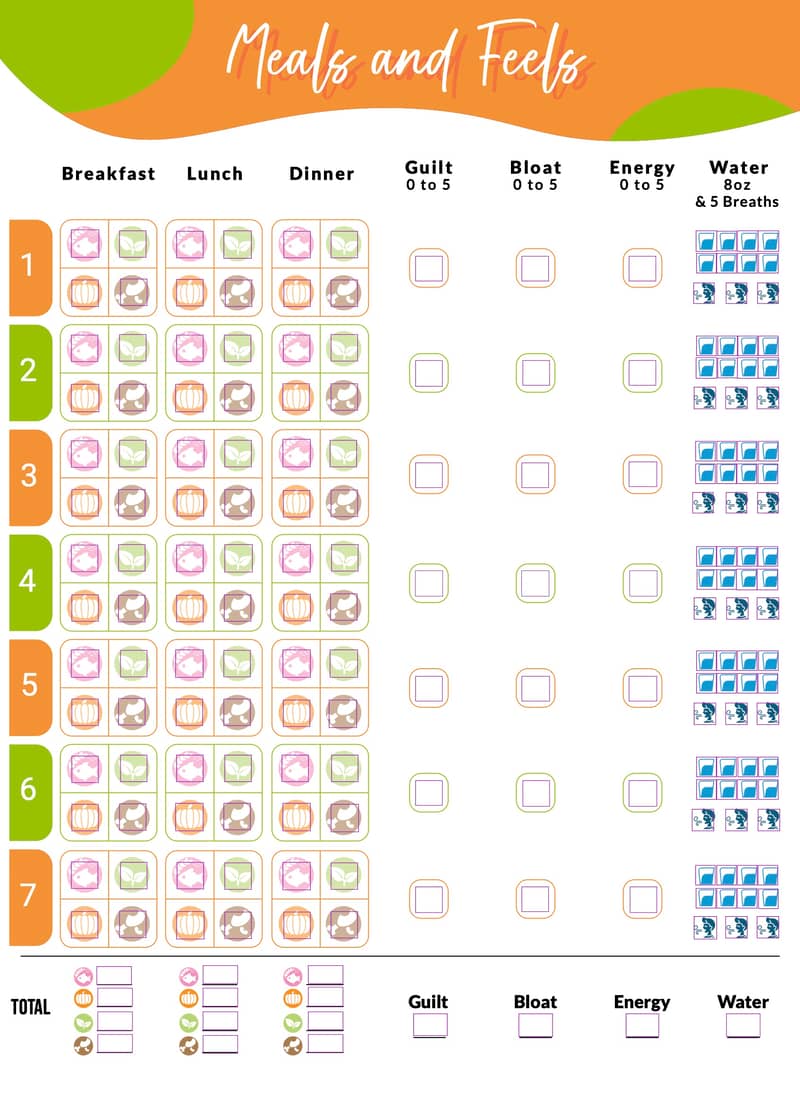 How much is this new resource?
$57!!
If you have always been curious about the way I coached, shared nutrition, or just need a shift in your perspective, this is a great opportunity to engage with your food relationship in a new way.
You will have unlimited access to the course and materials.
Heather Fleming, C.C.N. ​Conscious. Compassion. Nutrition.
P.S. While you are giving the new program a try, you receive the recipe book as a download, BUT you may want it in print!
And you can purchase your copy of the Feels & Meals Recipe Book on Amazon.
If you are not an Amazon lover, you can purchase from my website. (US only, a bit more expensive since I have 2 shipping fees).
Here are a few videos sharing recipe ideas from my NEW cookbook!