Calling my fellow comfort-eaters
I see so many articles regarding how to stop being an emotional eater. I don't know about you, but that doesn't resonate with me.
We are emotional beings having a physical experience.
The feeling of powerlessness, hopelessness and numbing is part of our emotional scale. These emotions can help us identify WHY we are choosing food to feel better.
I was helping my friend's 16-year-old daughter with her relationship with food. She is feeling ALL of the above feels and on a weight gain roller coaster.
She can not stop eating even when she is full

She has a thin mom and feels angry that she isn't as thin

She is scared when there is not enough food.

She is scared not to feel full.
My takeaways so far and how I am going to support her are:
Her food choices are trying to light up the pleasure center in her brain. We are adding one herbal supplement to a smoothie she already loves and makes every day to help her neurotransmitters fire up.

Her gut/brain connection is

NOT connected

. Her main focus this week is to add the

5-deep breaths BEFORE

she eats to help relax her anxiety and nervous system.

Her hormone ghrelin is not working up to par. She is placing lavender on her temples twice a day. She is allowing herself to feel the anger and will begin a journal on why food is her best friend right now.

Her mom and I will chat about

Food Insecurity, it is a REAL thing

. If her daughter is feeling restricted, this will cause her nervous system and organs to HOLD on to energy and store it.
The more we dive into our inner dialogue around why we eat to FEEL or NOT feel something, the more we will create safety in our nervous system.
Besides discussing food with my program, we will be addressing our emotions and feelings that come up when we try to change our behavior.
We will be experimenting with ONE day of Intermittent Fasting. We will practice adding this in gently and naturally! I gave it a whirl last week and caught some doozy thoughts regarding how I should eat so I don't overeat. Finding out where this stems from helps you navigate meals choices and hunger signals.
Join me TONIGHT for our one-week Summer Appetizer course.
We meet every other day for one week to help you unravel some of the constrictive feelings.

We reduce a few foods to observe how our inner Rebel and body respond.

We will experiment with understanding certain cues and naturally

choose one day

to Intermittent Fasting.

You will take away heaps of nutrition tips that will support your

flow and glow

!

All videos and calls are recorded for your listening convenience.

Access to the materials for 3 months.
Reply back to this email and I will get you sorted to begin with EASE!
P.S. Head over to my complementary Facebook Group for a Q&A session before the course.
​​P.S.S.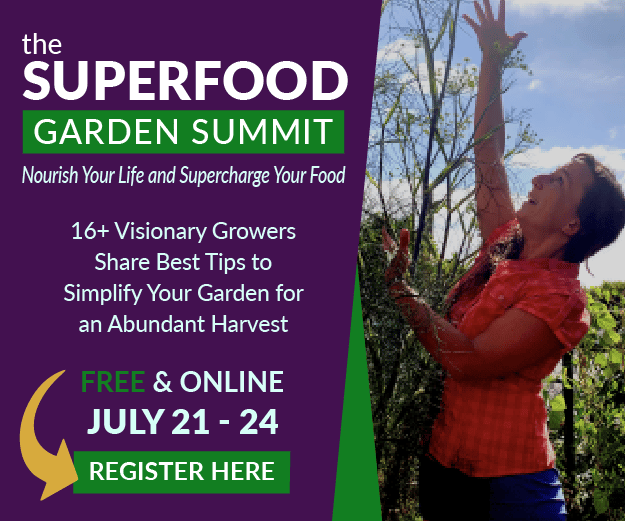 The Superfood Garden Summit begins tomorrow!
Another solution to better health and better food is right in your backyard… it's gardening! Because gardens HEAL.
When you plant a garden, you aren't just growing your own food. You're planting seeds of hope. ? Hope for a healthier body with less pain and more energy.
? Hope that you can feed your family without worrying about empty shelves at your grocery store.
? Hope that you're healing the planet for your kids and grandkids.
I call them seeds of hope because gardening gives you real, solid proof that you're taking a step forward to reclaim your health and independence. Because you can SEE the progress you're making when your plants grow big and strong. Seeds planted today can be food in just weeks.
This is why I'd like to invite you to a special FREE event put on by my good friend and master garden trainer, Stacey Murphy. It's an event for health-conscious people like you. We want to show you how to get MORE from a green lifestyle of fresh food. Growing food is simpler than most people think… especially when you know exactly what to do. That's why this summit has 16+ visionary growers who will share with you their tips to supercharge your garden.
​Click here to claim your spot at the Superfood Garden Summit
I shared some of my recipes with the summit!
Check out the Pumpkin Smoothie BELOW!
See you over at the summit!
​